Working...

Jaguar Speech Team Prepares for Community Performance March 12th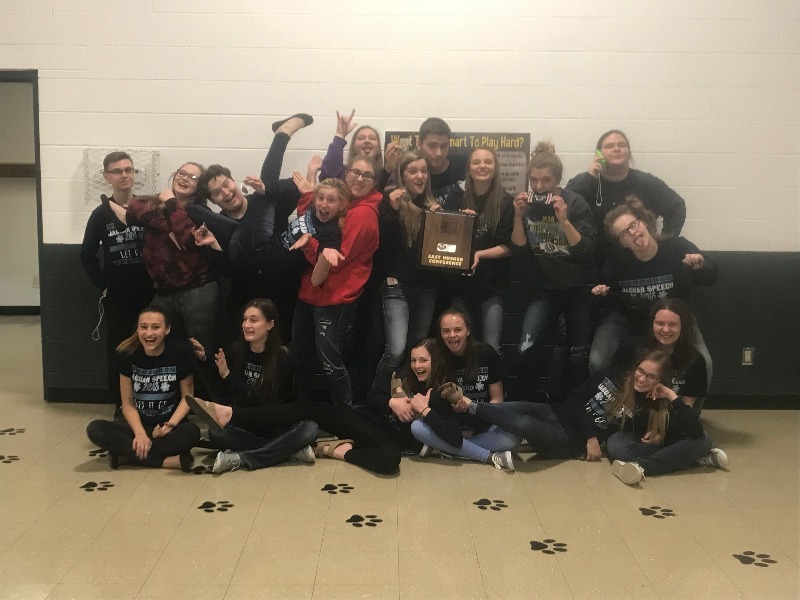 Jaguar Speech Team Community Performance is March 12th
The HDC Speech Team has completed their regular season and is preparing for their district contest. They invite everyone to come see their creations on Monday, March 12th at 6:30 p.m. in the high school in Howells. There will be multiple rooms of performances happening; a schedule will be available that evening.
The team has enjoyed many successes this season. At the end of January, the team traveled to Hartington and throughout February, they have been to Wakefield, Humphrey, Battle Creek, Newman Grove, and hosted the South Division of the East Husker Conference Tournament in Dodge. The team has picked up several team honors including the most recent, the East Husker Conference South Division Runner-up. Individual aawards earned include:
*Ellie Sheaks (humorous): 4th (Wakefield), 3rd (Newman Grove), 2nd (EHC)
*Holly Tomcak (serious): 5th (Hartington), 5th (Humphrey), 6th (EHC)
*Katelyn Steffensmeier (informative): 6th (Hartington), 1st (Wakefield), 1st (Humphrey), 1st (EHC)
*Emily Wragge (persuasive): JV 7th (Hartington), JV 5th (Wakefield)
*Jordyn Brester (serious): 2nd (Hartington), 3rd (EHC)
*Rebecca Swanda (poetry): 1st (Hartington), 1st (Wakefield), 4th (Humphrey), 4th (Battle Creek), 1st (Newman Grove), 1st (EHC)
*Bridget Praest (entertainment): 6th (Hartington), 6th (Humphrey), 6th (Battle Creek), 5th (Newman Grove)
*Michaela Hegemann (poetry): JV 5th (Hartington), JV 1st (Wakefield), 3rd (Battle Creek), 5th (Newman Grove)
*Nina Vogel (informative): JV 3rd (Wakefield), JV 6th (Battle Creek)
*Jillian Grovijohn (informative): JV 1st (Hartington), JV 1st (Wakefield), 4th (Humphrey), JV 1st (Battle Creek), 3rd (Newman Grove), 4th (EHC)
*Regan Burenheide (entertainment): JV 5th (Hartington), JV 2nd (Wakefield), 2nd (EHC)
*Jadyn Burenheide (informative): JV 3rd (Battle Creek)
*Jadyn Burenheide (extemp): 5th (Newman Grove)
*Lexi Tupaz (humorous): JV 5th (Wakefield)
*Harley Williams (poetry): JV 6th (Wakefield)
*Duet Team of Holly Tomcak & Jordyn Brester: 4th (Wakefield), 3rd (Humphrey)
*Duet Team of Cara Dvorak & Jillian Grovijohn: JV 1st (Hartington), JV 1st (Wakefield), JV 5th (Battle Creek), 6th (EHC)
*OID Team of Jacob Tomcak, Regan Burenheide, Jadyn Burenheide, & Cara Dvorak: JV 5th (Hartington), JV 2nd (Wakefield), JV 4th (Battle Creek)
*OID Team of Rebecca Swanda, Bridget Praest, Emily Wragge, & Jordyn Brester: 1st (Hartington), 2nd (Wakefield), 3rd (Humphrey), 2nd (Newman Grove), 2nd (EHC)
*OID Team of Holly Tomcak, Ellie Sheaks, Katelyn Steffensmeier, & Dax VanLengen: 5th (Wakefield), 2nd (Humphrey), 1st (Battle Creek), 1st (Newman Grove), 1st (EHC)