Working...

FCCLA Members Host Adopt-A-Grandparent Program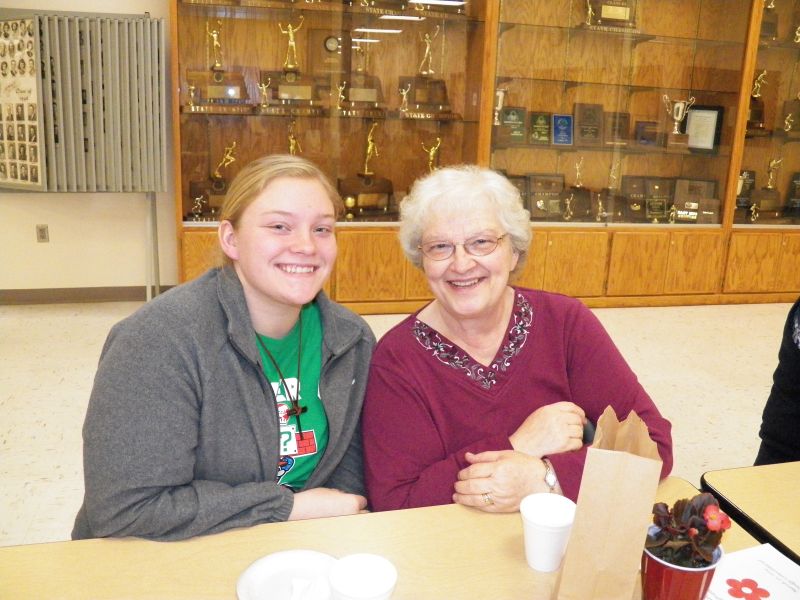 The Howells-Dodge FCCLA members invited their adopted grandparents from the community for an evening program on Thursday, March 27.  The members and guests were welcomed by chapter officer CaseyWisnieski.  Members introduced themselves and their adopted grandparents.  Red begonia flower plants were given to all the grandparents in attendance as part of the chapter's Grow Big Red project.  Prize-winning bingo was played.  Plants were given as door prizes and were won by Mary Ann Brester and Doris Gentrup.  Desserts, lemonade, and coffee were served.  Visiting and taking photos were enjoyed at the end of the evening.
Members and their grandparents who were able to attend were:  Breanne Brester – Stanley and Betty Svitak; Casey Wisnieski – Mary Ida Wisnieski and Mary Ann Brester; Ben Kuehn – Mary Ida Wisnieski, Abby Cody – Rose Gentrup, Alex Steffensmeier – Doris Gentrup, Kara Brichacek  - Mary Ann Spicka, Shelby Hegemann – Geraldine Burenheide, Caitlin Klosen – Mary Ann Brester, Mitchell Prusa – Dorothy Prusa, Chelsea Bayer – Dave Brester, Kalli Brester – Mary Ann Brester and Rose Marie Novak, Tessa Brester – Mary Ann Brester, Elaine Roubal, Samantha Brester, Leroy and Jan Gall and Mary Ann Brester, Haley Eikmeier – Anna Mae Eikmeier, Joey Kratochvil – Gerald Kratochvil, Emily Ritzdorf – Robert and Roslyn Ritzdorf, Elizabeth Sindelar – Marge Schlautman.    Other members who attended were Tyler Polacek, Mallory Rolf.