Working...

FCCLA Members Earn Medals At District STAR Events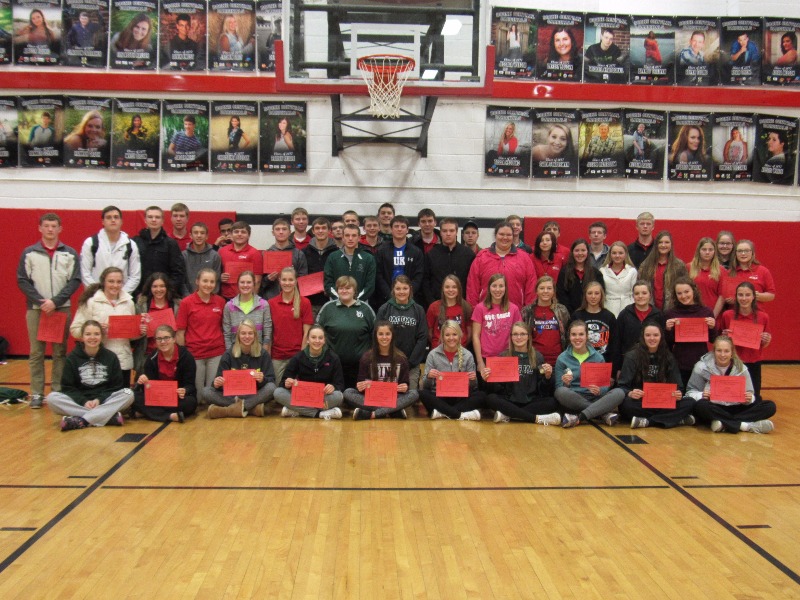 Fifty-five members of the Howells-Dodge FCCLA Chapter competed at the District 5 FCCLA STAR Events on Wednesday, Jan. 11 at Boone Central High School in Albion. Members from Boone Central, East Butler, David City, High Plains, Humphrey, Howells-Dodge, Leigh-Clarkson, St. Edward, and Twin River High Schools participated in the contest.
Forty members from the Howells-Dodge chapter qualified for the State STAR Events Contest in Lincoln in April. They are Brittany Cech - Family Challenges & Issues Sr.; Connor Blum, Zach Lund, Josh Brester - Health & Wellness Sr.; Sam Brester, Haley Eikmeier - Advocacy Sr.; Tonya Brester, Grace Dvorak - Chapter Service Project Sr.; Ryan Molacek, Brett Fiala, Joey Kratochvil - Chapter In Review Sr.; Bridget Praest, Callie Jackson, Catherine Kempf - Entrepreneurship Sr.; Jordyn Brester, Katelyn Steffensmeier, Emily Wragge - Environmental Ambassador Sr.; McKenna Klosen, Hannah Bayer - Hospitality, Tourism & Rec. Sr.; Michaela Hegemann, Courtney Bayer, Chloe Pieper - Interior Design Sr.; Kalli Brester, Tessa Brester, Hailey Coufal - Life Event Planning Sr. ; Holly Tomcak - Nutrition & Wellness Sr.; Jordon Brichacek, Dax VanLengen, Ryan Macholan, Jon Yosten, Miles Kulhanek, Ely Henrickson - Parliamentary Procedure Sr.; Macey Kulhanek, Erin Prusa, Jessi Brester - Sports Nutrition Sr.; Megan Balsley - Food Innovations Jr.; Kyle Pickhinke Career Investigation Jr.; Luke Rocheford, Darrin Pokorny, Trevor Schumacher - Sports Nutrition Jr.;
Other medal winners were: Bronze: Rebecca Swanda - Fashion Construction; Silver - Zav Lee - Career Investigation Sr.; Chelsea Bayer, Emily Ritzdorf - Focus on Children Sr.; Elizabeth Sindelar, Elisia Vogel, Lindsey Pickhinke - Food Innovations Sr.; Taya VanLengen, Madyson Cech - Life Event Planning Jr., Alyssa Coufal, Grace Kreikemeier - Focus on Children Jr.; Gold - Lane Hegemann, Kade Hegemann - Illustrated Talk Sr.; Matt Cada, Seth Cech - National Programs in Action Sr., Brad Kratochvil, Mitch Yosten - Promote and Publicize FCCLA Sr. Assisting with scoring for the contest was Carter Bracht.