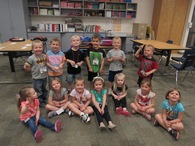 The afternoon FCS classes at Howells-Dodge Consolidated hosted Nursery School for children ages three and four on April 27- May 1 from 1:15 – 3:15 p.m. Each day focused on a different theme. Monday was "Animal Day" and Tuesday was "Shape Day". Wednesday we focused on "Colors", and Thursday we did activities with "Numbers". Friday was "Letter Day". The FCS students planned and led activities for the students throughout the week that included learning activities, art time, games, songs, stories and snack time. Children who participated . . .

FCCLA Members Honored at FFA-FCCLA Banquet The Howells-Dodge FFA and FCCLA Chapters held their annual banquet on Monday, April 27 at 6:30 p.m. at the Howells-Dodge Consolidated High School Gym. The opening ceremony was led by the FFA Officers. After a delicious potluck supper, FCCLA awards were presented to members, outstanding member award winners and chapter parents Freshman award winners were: Connor Blum – FCCLA Award, District Champion and State Bronze Medal Winner in . . .

The staff at Howells-Dodge Consolidated Schools will be hosting an open house for its retirees on Sunday, May 17 from 1:00 to 3:00 p.m. in the Commons Area at Howells-Dodge Consolidated Schools in Howells. Honored at the open house will be Sally Baumert, Connie Franzluebbers, Janet Fritzinger, Robin Groene, Myra Langhorst, Deb Motes, Betty Semerad and Marvin Semerad. Please join us in thanking these staff members for their many years of service to our students, school and communities and in congratulating them on their . . .