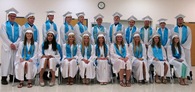 The Howells-Dodge Consolidated Schools Commencement Ceremony was held on Saturday, May 9, 2015 at 5:00 p.m. at the Howells-Dodge High School Gym in Howells. The processional was played by Wayne Molacek as the junior candlebearers, junior leaders and graduates marched in. Jesse Faltys, class vice president gave the welcome and introduction. The Salutatorian, Jessica Shonka, presented her speech. Morgan Baumert, class Valedictorian, then gave her speech. Scholarship awards were presented by Mr. Robin Groene, Guidance Counselor. The senior tribute to parents followed The senior slide show, . . .

The Howells-Dodge FCCLA members picked up trash for their Adopt-A-Highway Project on Tuesday, May 12. The group met at 6:00 p.m. to clean up the road ditches on the two miles south of the Highways 15 and 91 intersection. The clean up is a community service activity done as part of the chapter's Keep Nebraska Beautiful project. . . .
by Mrs. Brenda Hegemann
On Wednesday, May 6, the Howells-Dodge Consolidated 5th Grade class, along with their teacher Mrs. Brenda Hegemann, traveled to Ashfall Fossil Beds State Historical Park near Royal, Nebraska, for their annual field trip. It was a fascinating day that everyone enjoyed! Mr. Rick Otto was our tour guide. He gave us a very interesting introduction to Ashfall Fossil Beds. We were able to see fossils of many different kinds of species that were found in Nebraska even before we visited the main attraction, The Rhino Barn. . . .