Working...

Current Employment Opportunities
HOWELLS-DODGE CONSOLIDATED SCHOOL
EMPLOYMENT OPPORTUNITIES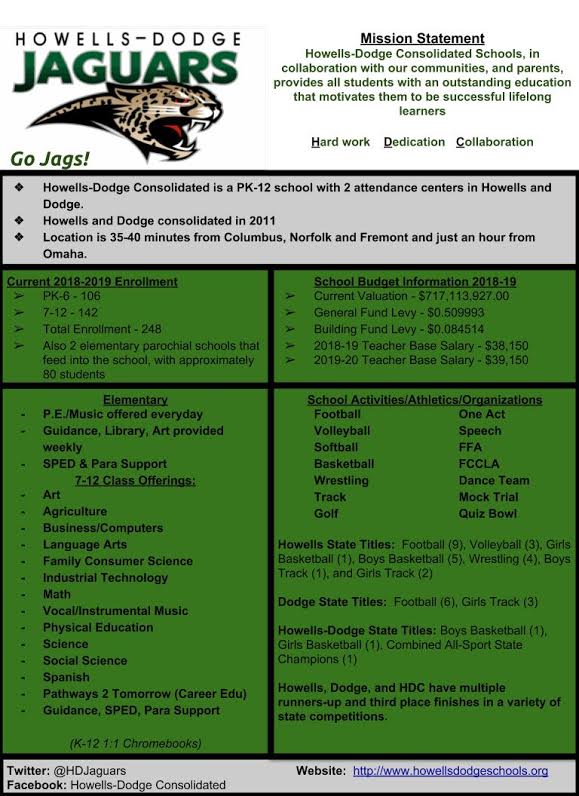 CURRENT POSITION OPENINGS:
Howells-Dodge: Anticipated Paraprofessional Position Opening:
Howells-Dodge Consolidated is seeking for an anticipated Paraprofessional position opening to serve in elementary at the Dodge Attendance Center beginning as soon as possible.
 Requirements: H.S. Diploma, preferred Associates Degree or other college
 Duties/Expectations:
 Students w/ special needs
 Assist w/ student instruction and some supervision
 Training will be provided - online and in person
HDC has very competitive hourly rates. If interested, please locate the application form on our
district website, www.howellsdodgeschools.org under the district tab, complete and mail to:
Mark Ernst, Superintendent, Howells-Dodge Consolidated, P.O. Box 159 Howells, NE 68641.
This position will remain open until filled. HDC adheres to EOE and Veteran's preference.
Applications can also be picked up at either attendance
center's office. Positions open until filled. Drop off completed applications at either
school's office or send to:
Howells-Dodge Consolidated Schools
Attn: Superintendent Mark Ernst
P.O. Box 159, Howells NE 68641
Or email application: mernst@hdcjags.org
Inquiries to Superintendent Ernst: (402) 986-1621