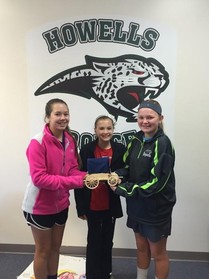 The 7th grade Nebraska History class recently completed a project of building covered wagons. They built their covered wagons out of tongue depressers, hot glue, and wire. The covered wagons were judged by the teachers. The winners were Cassie Pieper, Jayda Bazata, and Cara Dvorak.
read more
Six students attended the UNMC Rural Health Care Career Day on the med center campus in Omaha on Tuesday, October 20. Attending students were Kalli Brester, Haley Eikmeiier, Sam Brester, Caitlin Klosen, Chelsea Bayer, and Emily Ritzdorf. . . .
The freshmen recently competed in an "ultimate gladiator" tournament. Students had to name, draw, and state strength and weaknesses of their gladiator. The tournament consisted of 28 participants and was voted on by . . .