Working...

FCCLA Members Adopt Grandparents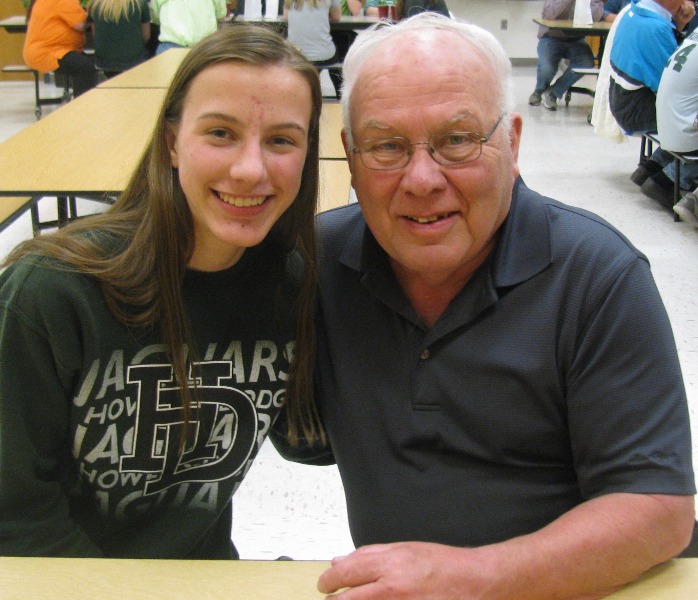 Members of the Howells-Dodge FCCLA Chapter have adopted grandparents in the community. FCCLA members remember their adopted grandparents with cards at holidays and will host an evening Adopt-A-Grandparent Program in March.
FCCLA members and their adopted grandparents are: Connor Blum – Richard and Sharon Hoelscher, Jordyn Brester – Stanley and Betty Svitak; Katelyn Steffensmeier – Ted and Doris Gentrup, Francis Schmidt; Jordon Brichacek – Milo Brichacek; Jon Yosten – Dave and Norma Yosten; Ryan Macholan – Jenice and Steve Detweiler; Emily Wragge – Mary Hunke, Ron Schmidt, Myra Langhorst; Lindsey Pickhinke – Rosemarie Novak, Vivienne Nelson, Marvin and Lucille Pickhinke; Rebecca Swanda – Colleen Brown; Holly Tomcak – Marvin and Betty Semerad; Zach Lunch – Rich and Connie Hohnstein; Dax VanLengen – Delmar and Sandra VanLengen; Brittany Cech – Carolyn Cech; Ely Henrickson – Dave Henrickson; Ellie Sheaks – Colleen Brown; Hannah Bayer – Carol Bayer, Paul and Val Pekarek; Jessi and Josh Brester – Jan and Leroy Gall, Mary Ann Brester; Tonya Brester – Mary Ann Brester, Emil and Elaine Roubal; Seth Cech – Marian Bracht; Grace Dvorak – Bernard and Kathy Bousquet; Kade Hegemann – Robin and Cathy Groene, JoAnn Hegemann; Lane Hegemann – Geraldine Burenheide – JoAnn Hegemann; McKenna Klosen – Cindy and Dennis Cooper; Brad Kratochvil – Gerald and JoAnn Kratochvil; Bridget Praest – Donna Praest; Erin Prusa – Dorothy Prusa; Catherine Kempf – Wanneeta Norton; Chloe Pieper – Nancy Collins; Mitch Yosten – Norma Yosten; Desirae Haase – Doris Haase; Megan Balsley – Denzel Hermsen, Mary Lu;cht, Kim Eyer, Michelle and Wayne Brabec; Courtney Bayer – Bob and Carol Bayer, Dave Brester; Alyssa Cappellano – Gene and Janice Oswald, Karen Cappellano; Madyson Cech – Marian Bracht; Alyssa Coufal – John and Marie Kaup, Ron and Pat Coufal; Michaela Hegemann – Irene and Gary Brosch Callie Jackson – Bob and Connie Jackson, Dan Wettlaufer; Grace Kreikemeier – Jackie Serres, Doris Kreikemeier; Kyle Pickhinke – Rosemarie Novak, Vivienne Nelson, Marvin & Lucille Pickhinke; Darrin Pokorny – Steve and Jenice Detweiler; Luke Rocheford – Mary Ann Rocheford, Gerald and Sharon Brichacek; Taya VanLengen – Claudia and Stan Kravig; Cara Dvorak – Mary Kay Dvorak, Donna Ostry; Audrey Coufal – Marty Coufal, Denise Brester; Lexie Brester – Mary Ann Brester, Rose Marie Novak; Cassie Pieper – Bob and Jonnie Pieper; Riley Pokorny – Harry and Susie Pokorny; Jayda Bazata – Joe and June Tresnak, Agnes Bazata; Logan Fiala – Carol Bayer; Jill Grovijohn – Bill and Linda Grovijohn; Neleigh Jensen – Kathy and Pat Stratman; Jacob Tomcak – Marvin Semerad; and Harley Williams – Delwin Hegemann.